What Can I do with a Ford Bronco in Chilliwack, BC?
What Can I do with a Ford Bronco in Chilliwack, BC? With a Ford Bronco in Chilliwack, BC, the possibilities are endless! Whether you're an adventurer seeking thrilling outdoor experiences or someone who enjoys the comfort and style of driving a rugged SUV, the Ford Bronco is the perfect vehicle for your needs. In conclusion … Continued
What Can I do with a Ford Bronco in Chilliwack, BC?
With a Ford Bronco in Chilliwack, BC, the possibilities are endless! Whether you're an adventurer seeking thrilling outdoor experiences or someone who enjoys the comfort and style of driving a rugged SUV, the Ford Bronco is the perfect vehicle for your needs.
Off-Roading: Chilliwack is surrounded by stunning natural landscapes, including the Fraser River, Cultus Lake, and numerous mountain ranges. With its 4×4 capability, high ground clearance, and impressive suspension, the Ford Bronco is tailor-made for off-roading adventures. You can explore the many off-road trails and forest service roads in the area, such as the Jones Lake Trail, Foley Lake Road, or the Vedder Mountain Trail. These trails offer a variety of terrains, including muddy tracks, rocky slopes, and challenging obstacles, allowing you to push the Bronco to its limits.
Camping: Chilliwack is a haven for camping enthusiasts, and with the Ford Bronco, you can take your camping experience to the next level. The Bronco offers ample cargo space and versatile seating configurations, making it easy to carry all your camping gear, whether it's tents, sleeping bags, or cooking equipment. You can explore camping spots such as Cultus Lake Provincial Park, Bridal Veil Falls Provincial Park, or Chilliwack Lake Provincial Park, where you can enjoy the tranquility of nature and spend quality time with family and friends.
Watersports: If you're a fan of watersports, the Bronco is perfect for towing your equipment to nearby lakes and rivers. Chilliwack offers excellent opportunities for fishing, kayaking, paddleboarding, and boating. With the Bronco's towing capacity, you can easily transport your boats, jet skis, or any other watercraft to destinations like Cultus Lake, Harrison Lake, or the Fraser River for a day of fun on the water.
City Exploration: Not only is the Ford Bronco great for outdoor adventures, but it also shines when it comes to city driving. Its powerful engine, responsive handling, and modern features make it a pleasure to drive in any urban environment. Chilliwack itself offers numerous attractions, such as the Chilliwack Museum, Minter Gardens, or the Chilliwack Cultural Centre. You can also take advantage of the Bronco's spacious interior to do some shopping or explore the local restaurants and cafes.
In conclusion
A Ford Bronco in Chilliwack, BC, opens up a world of possibilities. Whether you're seeking thrilling off-roading experiences, exploring the great outdoors, enjoying water sports, or simply driving around the city in style, the Bronco is the perfect vehicle to accompany you on your adventures. So, buckle up and get ready to make unforgettable memories with your Ford Bronco in Chilliwack!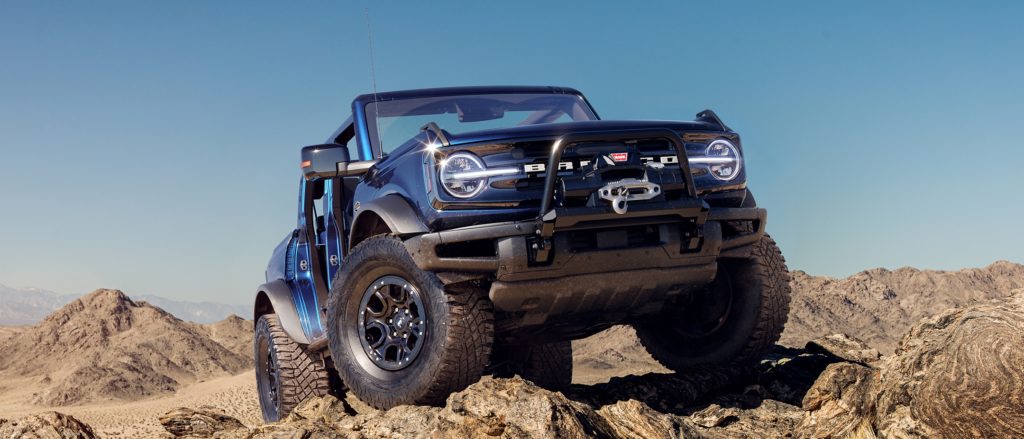 Is a Ford Bronco an Ideal SUV for the snowy wheather of Chilliwack, BC?
When considering an SUV for snowy weather, the Ford Bronco is indeed an ideal choice for the conditions in Chilliwack, BC. There are several factors that make the Ford Bronco well-suited for navigating snowy terrain.
First and foremost, the Ford Bronco is known for its robust 4×4 capabilities. With its advanced four-wheel drive system, the Bronco offers exceptional traction and stability on slippery surfaces. This means you can confidently drive through snow-covered roads and icy conditions, knowing that the Bronco has the capability to handle the challenges of winter weather.
Additionally, the Ford Bronco comes equipped with features specifically designed to enhance its performance in snowy conditions. For instance, many models offer selectable drive modes, including a Snow mode. This mode adjusts the vehicle's settings to optimize traction and stability, providing even greater control in slippery conditions.
…Furthermore
… the Bronco's high ground clearance is an advantage when dealing with snow accumulation. With ample clearance between the vehicle's underbody and the ground, the Bronco can easily traverse snow-covered roads without getting stuck. This is particularly important in regions like Chilliwack, where heavy snowfall is common during the winter months.
To illustrate the suitability of the Ford Bronco in snowy weather, consider the following example. Imagine driving through a snowstorm in Chilliwack. The roads are covered in thick snow, and visibility is reduced. With the Bronco's 4×4 capabilities, you can confidently navigate through the treacherous conditions, thanks to the vehicle's ability to distribute power to all four wheels. The selectable Snow mode further enhances performance, providing additional traction to safely maneuver through the snow-covered roads. The high ground clearance ensures that the Bronco can easily pass over snow-packed obstacles, preventing any potential damage to the underbody.
In conclusion, the Ford Bronco is an ideal SUV for the snowy weather of Chilliwack, BC. Its 4×4 capabilities, selectable drive modes, and high ground clearance make it a reliable and capable vehicle for navigating through winter conditions. Whether you are commuting to work or venturing out on snow-covered roads, the Ford Bronco offers the performance and features necessary to tackle the challenges of snowy weather.
Is Ford Bronco a Truck?
No, it is not classified as a truck. The Ford Bronco is an SUV (Sports Utility Vehicle) that was first introduced by Ford in 1965. It was originally designed as a rugged off-road vehicle with a removable roof and doors, making it popular for outdoor adventures.
The Bronco has undergone several generations and redesigns over the years. The latest generation, introduced in 2021, has a more modern design and advanced features while still retaining its off-road capabilities.
Although the Ford Bronco shares some similarities with trucks, such as its larger size and high ground clearance, it is still categorized as an SUV. The main distinction is that SUVs are built on a car platform, while trucks are built on a separate truck chassis.
To further illustrate, let's compare the Ford Bronco with the Ford F-150, one of Ford's popular truck models. The F-150 is built on a truck chassis, has a separate bed for cargo, and is designed primarily for towing and hauling heavy loads. On the other hand, the Bronco is built on the same platform as the Ford Ranger, which is a mid-size pickup truck, but it lacks the separate cargo bed and towing capacity that define a truck.
In conclusion, while the Ford Bronco may have some truck-like characteristics, it is officially classified as an SUV due to its car-based platform and lack of a separate cargo bed.
Blog News at:
Spotting Common Red Flags When Inspecting a Used Car
The Best Decision When Purchasing Your First Used Car