Commercial/Fleet Services Overview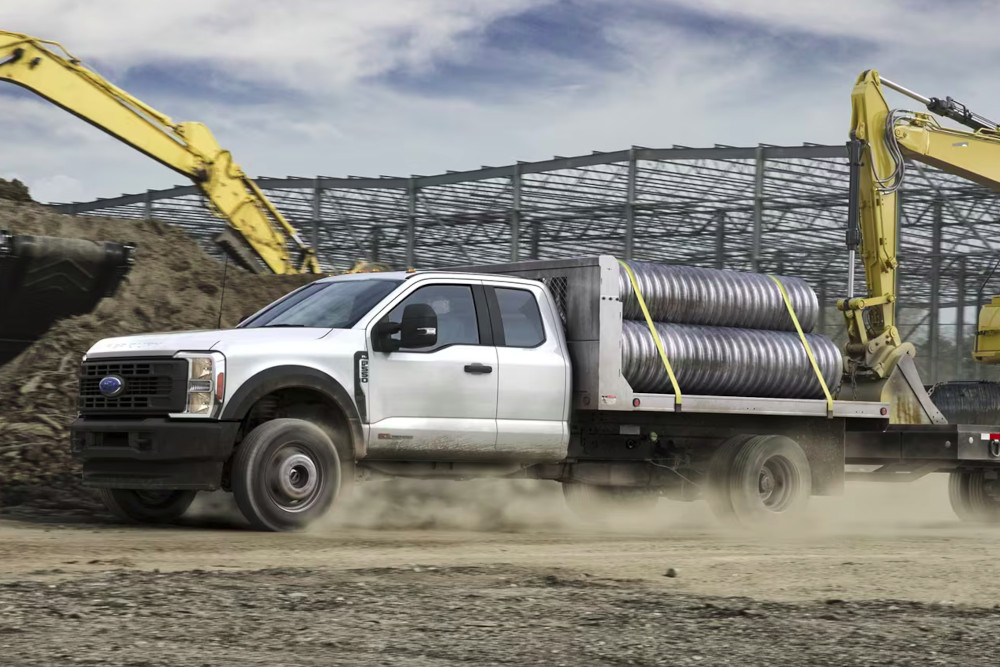 Here at MSA Ford, our entire team will work diligently with you to identify your needs and provide the perfect transportation solution, regardless of the size of your business. As industry experts and previous business owners, we understand your situation and will prove to be an excellent source of knowledge for you throughout the purchasing process and life of your vehicle. To be successful in the operation of your business, we believe that you will want to know that you're working with people who understand and care, people who can advise you on the right solution.
Vehicle accessories/up-fitting — From genuine Ford accessories to customized shelving/racks to full commercial service bodies, we know the right parts, the right suppliers, and the right installers to make your vehicle work efficiently for you.
From laptop mounts to dividers to customized rear seat storage systems, we can make your vehicle an extension of your workspace.
We can also capitalize many of these accessories right into your lease or purchase, saving you out-of-pocket expenses and making it so convenient to customize the vehicle.
As a Commercial Vehicle Centre Dealer, we know that genuine Ford parts also protect your warranty, ensuring your vehicle ownership experience is as good as you can have.
The right equipment, from the right source, professionally installed to work hard for you!
Certified service/warranty work — We have trained technicians and parts on hand, ready to address any warranty repairs or breakdowns. Your business runs 30 days a month; why shouldn't your vehicle?
We will ensure that your vehicle is serviced regularly by our factory-trained techs, which protects the full warranty completely for the entire warranty period, or for as long as you have your vehicle. Peace of mind ownership has never been this easy.
With Ford's Pre-Paid Maintenance Plans, we make it far cheaper — and incredibly easy — to keep your vehicle maintained throughout your ownership cycle.
We have service loaners or subsidized rentals available 24/7 in the unlikely event of a vehicle breakdown, keeping you on the road and conducting your business.
Qualified service and qualified parts from qualified professionals; our recipe for your success!
WE MAKE IT EASY TO UPFIT YOUR FORD VEHICLE. AFTER ALL, YOU HAVE ENOUGH WORK TO DO

We make it as convenient as possible for you to upfit your Ford vehicle to fit your business needs.
Ford of Canada delivers on its promise to offer a complete line-up of top quality vehicles, including F-150, Super Duty, E-Series Cutaway, Transit Passenger Vans and Transit Cutaway.
Enhance the capabilities of your Ford commercial vehicle with custom solutions from these premier upfitters. You'll find hundreds of top-quality products like bodies, interiors, systems and accessories, all backed by exceptional customer service and expertise.
Ford Transit transforms into custom conversion vans that are ideal for wherever your lifestyle takes you. Get the convenient upfits that fit your needs, from family camping trips to golf getaways to pursuing your favorite hobbies and adventures. Plus, every Transit conversion van comes equipped with all the advantages of Ford reliability, performance, towing ability, and more.
Transit vans and other Ford vehicles can be adapted the fit the individual wants and needs of people with disabilities, as well as those who care for them. It's part of Ford Motor Company's long commitment to provide greater accessibility and freedom to those with special needs.

COMMERCIAL UPFITTING OPTIONS WE CAN OFFER… LIMITED ONLY TO YOUR IMAGINATION
Racks, bins and interior shelving packages
Vehicle wrap/graphics packages
Van interior lining packages
Ladder racks
Rear lift gates/power tailgates
Safety partitions/bulkheads/ headache racks
Dump bodies
Snowplows & salt spreaders (Chassis Cabs only)
Van (dedicated freight) bodies
Flat decks and landscape bodies
Towing and recovery bodies
Utility bodies with cranes
Refrigeration bodies and systems
Toolboxes — underbody/in-bed
Mobility up-fits
Compressors
Cube van boxes — fibreglass or aluminum
Custom service utility bodies
E-Series cutaway utility bodies
Transit cutaway utility bodies
F-Series utility bodies
Customized lighting

Commercial Lease — This is a customizable, open-ended lease plan for single or multi-unit commercial customers that provides flexible terms and residuals based on your customer's business requirements. The program can be tailored to meet the specific business needs of any of your commercial customers in a number of ways, such as allowing for high mileage, heavy usage vehicles as well as vehicle modifications and up-fits.
Commercial Lines of Credit — This helps your customer choose the vehicle financing plan best suited for their business and makes it easier for them to acquire commercial vehicles quickly, when they need them, without a long approval process. Ford extends lines of credit for vehicle acquisition regardless of the size of their business or fleet requirements. Ford Commercial Credit will also help plan for vehicle turnover and fleet expansion.
Ford Fleet Care — Ford provides a parts and service billing program offering service billing features such as no enrollment or monthly per-vehicle fees and no administrative fees. With Ford Fleet Care, you have the ability to bill purchases of all Genuine Ford and Motorcraft® parts used for the repair and maintenance of vehicles at a fleet facility. Ford Fleet Care provides reporting for monthly invoicing, purchase summaries and full purchase details, making accounting a breeze!
Ford Protect (FMPP's and ESP's) — This program ensures that your customer's vehicles have the protection they need by using Ford-authorized parts and service to keep it running at its best. Coverage includes the repair and replacement of selected components for the earliest of the time, mileage and hours you select and can be pre-paid for a far greater return on your service/parts dollar.